Visit to my new school!
Hello friends!
I'm so excited to tell you all about the wonderful time I had visiting my new school's campus last week. My one year anniversary was Tuesday, and that night (after an incredible day together, of course), my husband and I left LA on a redeye for Newark. We were there for about four days, and it was... an incredible experience. Unforgettable, really. We met with current graduate students who could not have been more friendly, fun, hospitable, and informative if they tried, and (squeal) we met my POI. The meeting with my POI and one of his PhD students was so much fun, almost like being at a stand up comedy show or something. I can't wait to work with these fine people for the next several years!
In addition to meeting current faculty and students, we also went apartment hunting. We accomplished our hunting in just a few hours, many thanks to the last minute car we rented and to finding basically the paradise of apartments at the end of what was several otherwise discouraging hours of looking. The apartment complex is lovely and just a short walk from White Clay Creek (pictures below!), Newark's Main Street which is the social hub of the city, and Old College, where the art history department and my classes are housed. There's also a university shuttle that stops right at the complex, which will be a godsend in the winter (and sleepy mornings). They told us that they're considering building a dog park. This was surprising because... what apartment complex builds dog parks? We've always wanted a puppy but never considered getting one in our current living situation... but the apartment complex we found is lush and green and pet friendly and I can think of all these great places our little puppy would love running around and playing. So, we might end up adopting a puppy sometime in our tenure here. (I know this is sort of irrelevant but the thought of a cute little puppy running around the greenery of our apartment complex makes me really happy

) Unfortunately, we weren't able to leave with a signed lease or a deposit down (which we were hoping to), but they promised to follow up with us when a unit becomes available in our timeframe -- and they've already been in touch twice! Very reassuring.
One of our nights there, we attended a student production of the Phantom of the Opera (Andrew Lloyd Webber's version). It was phenomenal! We also got to try a bunch of local coffee shops (I've now picked out two that I know I'll be frequenting), restaurants, and went to a restaurant that makes its own gelato (which was thisclose to being as good as Italy's).
Edit to say that: I spent the entire trip thinking that the UDel Blue Hen was actually the Road Runner from Looney Tunes. I can't shake it. The Blue Hen looks just like him to me. It's endearing (and hilarious). Meep meep.
Unbeknownst to us, we visited UDel during "Decision Days," the decision weekend for undergraduates, and thus we constantly ran into/walked along with tours full of bright-eyed freshmen and impressed parents. It was a somewhat poignant reminder that I'm separated from this phase of life now and that over the next 2 (or several, if I'm lucky enough to get into the PhD program), I'll be learning how to teach these "youngins." One exciting moment (as if all moments on this trip weren't exciting for my very easily excited self) was when someone told me that as a TA, I'd probably be explaining to undergrads why they got something wrong on their test, and my mind did a mental "Success Kid" meme. How cool is that? I love explaining art history to people, and so to actually be in a position where I can explain it to undergraduates for the betterment of their (grades, personal selves, knowledge, etc.) is something that I'm really looking forward to doing. I've heard that TAing for my department is excellent preparation for when one moves on into academic teaching positions. The undergraduates I've encountered seemed to be consistently and genuinely excited about and involved with their university, but I think that my level of excitement to be here for graduate student exceeds all of their enthusiasm combined! (Yes, I am the superwoman of being excited about Delaware!! I can't help it! Sorry!)
Delaware is basically heaven. I'm thrilled about the program and my fellow students. I hope that I can keep up with them -- they're all incredibly smart, successful, well respected young scholars and I admit that it's a little bit intimidating to be surrounded by such prestigious students! But hearing of all their successes (mostly via the department's newsletter), moreso than being intimidating, had me beaming with pride that I'll soon be part of such a stellar department, and under the guidance of a faculty that seems to genuinely care about their students' academic successes and growth. I haven't even begun, and already my heart is tethered to this place. I can't imagine going anywhere else for my MA, or for my PhD, and I'm hoping that the department and I will have a mutual excitement about each other so I don't have to leave in two years! Seriously. After this incredible week, there is no other program for me. No other program that I'd rather study at. Not Yale, not Virginia, not Maryland, not Columbia. This is it. I know that over the next two years I'll grow exponentially as a scholar and I can't imagine not doing my PhD here with this POI. I know I'm jumping the gun a little already thinking about my PhD when I haven't completed the MA yet, but -- I applied to the PhD program in the first place, anyway. I knew from the start that I could see myself being here for five years, and I now I know it like the back of my hand. I can't wait to start learning, researching, writing, and forging new relationships in the Fall!
Here's a few pictures from our trip!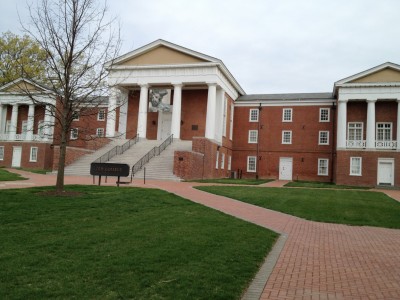 Old College @ the University of Delaware. Old College is the oldest building on campus. This is where the art history department is housed. Surprisingly, even with all the tours going on, no one was ever in front of this building so we consistently got the best shots! Win.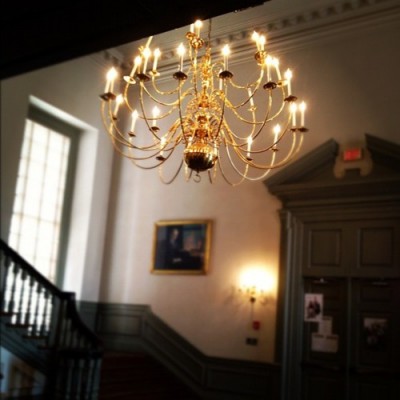 Inside Old College.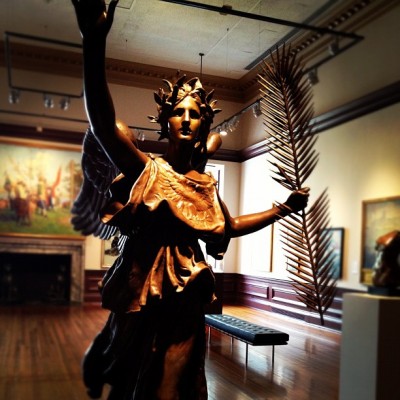 Old College also has an impressive art gallery.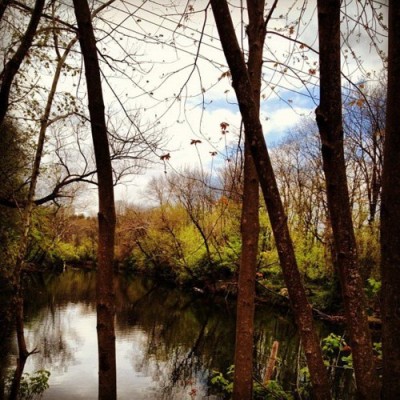 This is White Clay Creek, a short walk from our (hopefully) new home!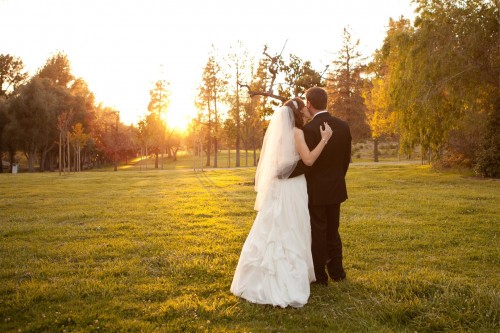 And this is one of our wedding photos, because really the best part of last week was that I've been married to an amazing man for a year already! Best year of my life.